Beam 2020 Week #41 - Running Beam!
Covering October 5th - October 11th 2020
Download Beam Android Wallet | Beam iOS Wallet | Beam Desktop Wallet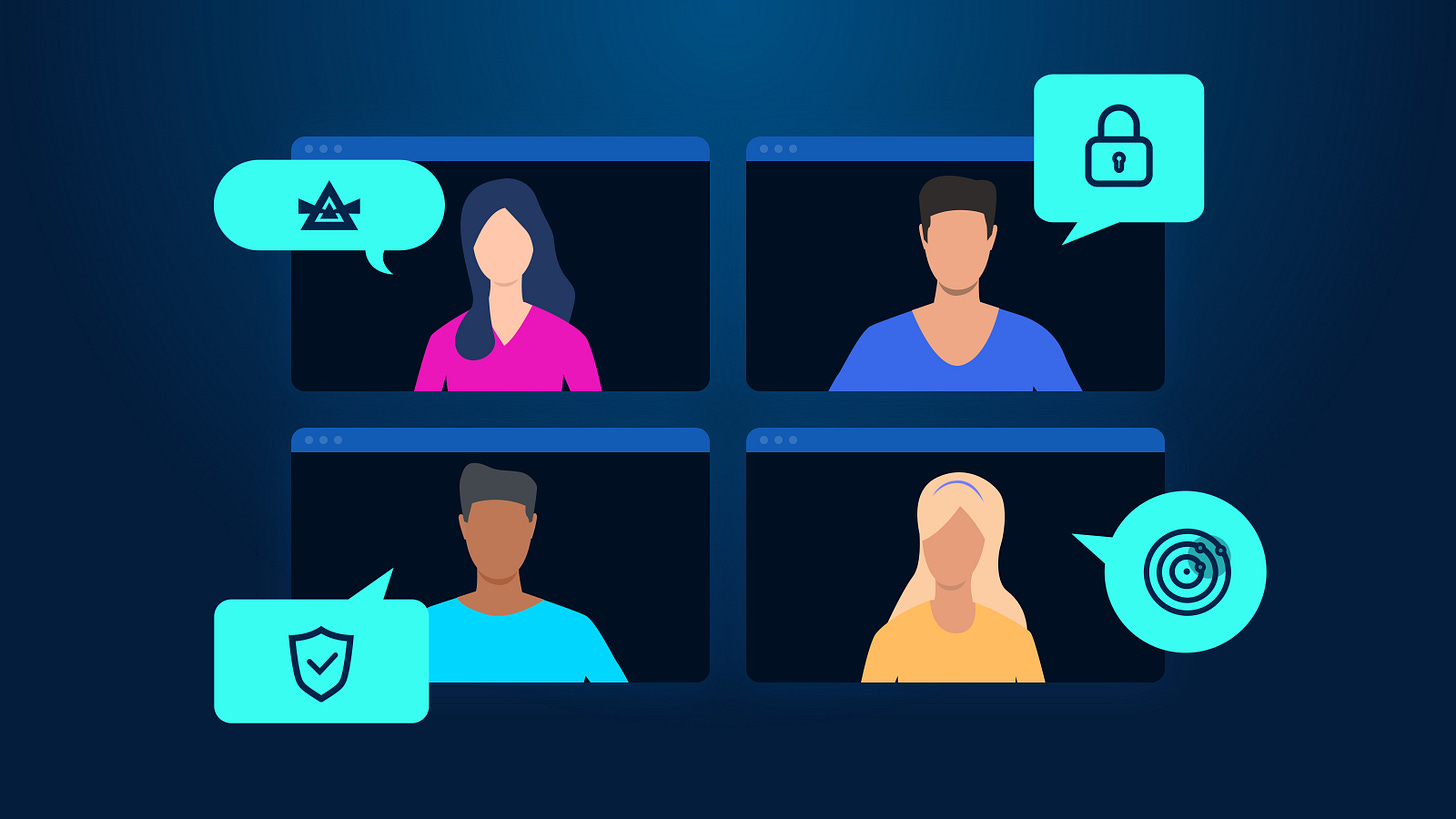 Beam News
Another wicked week for Beam with progress pushing forward to bring better privacy, and confidential DeFi to all. As we begin to push towards the launch of the Beam DeFi platform there is some incredibly exciting stuff on the horizon. That being said, the community and your support is the backbone of Beam, so this week we will focus on you! 💙
The Beam Community
With the upcoming community call, it's a great time to add support and numbers across all of the Beam platforms, not just your favourite. So now's your chance to join, get amongst the convo, and show you support!
While you are at it, one of the most important follows on Twitter for all things Beam and Confidential DeFi:

Romanov is currently on fire, so give him your follows likes and retweets, and let's take Beam to the world!

Community Call
The second community call was announced last week, and will be kicking off on the 18th. A lot has happened since the last call, so a great chance to get together, and get up to speed with where we are at, where we are going, and how we are going to get there!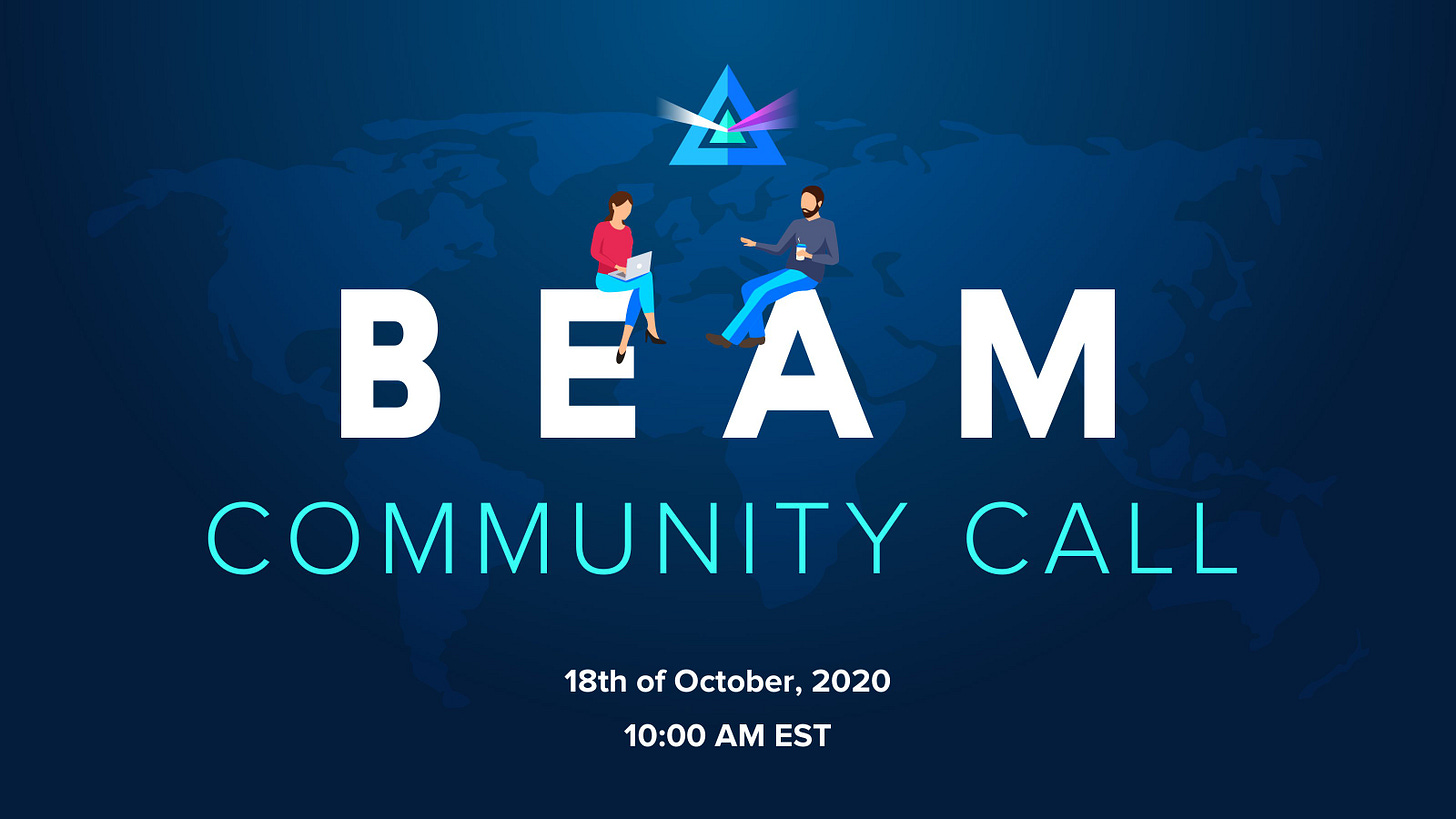 Date: 18th of October, 2020
Time: 10:00 AM EST
Location: https://zoom.us/j/3266391753

We are looking forward to having you all join. Save the date, and see you there!
Community Spotlight
This week in the spotlight is Coingecko! Providing a 360-degree overview of the crypto markets, Coingecko is a great place to stay up to date with the latest and greatest happenings. It's a pleasure to have had their support for Beam since launch, so check it out and leave a thumbs up!

If you look closely, you will notice Beam is one of six currencies accepted for donations to Coingecko. Privacy is often essential for those wanting to make donations, and we encourage any and all to add Beam as a means to donate!
Research and Development
The latest and greatest from Alex in Beam Pulse episode 6, giving us an update on what's new in the upcoming Beam Wallet 5.2 release, major wallet features for the 5.3 and 5.4 releases, and updates on the Confidential DeFi infrastructure!
Key Developments:
Beam Blinders (Smart contracts on Beam) - Major progress in Smart contract (aka Beam Shaders) using WebAssembly

Beam <> Ethereum Atomic swaps - POC complete and moving to wallet integration

Beam Bridges - in progress

Eager Electron 5.2 - development nearing completion

Eager Electron 5.3 - Finalizing contents, to be announced soon

Spoiler Ahead!!!
If you haven't already checked out the video above, do so now!

Right, now that that is out of the way, time for some Beam Runner!
We are opening testing up for feedback from the community.
Slap on your sneakers, and get running!
Android:
Beam Runner https://i.diawi.com/VeobTW
Testnet Wallet https://i.diawi.com/r5YHcZ
iOS:
Beam Runner https://testflight.apple.com/join/p8sFEXsQ
Testnet Wallet https://testflight.apple.com/join/M0WBrpmD
Press
Sign up, stay tuned, and see you all next week!
---
Got news or articles to include in these newsletters? Any feedback? Any suggestions?
Drop us a line on marketing@beam.mw or follow us on Twitter.