Beam 2020 Week #19 - Spend It
Covering May 4th - May 10th 2020
Downloads: Beam Android Wallet | Beam iOS Wallet | Beam Desktop Wallet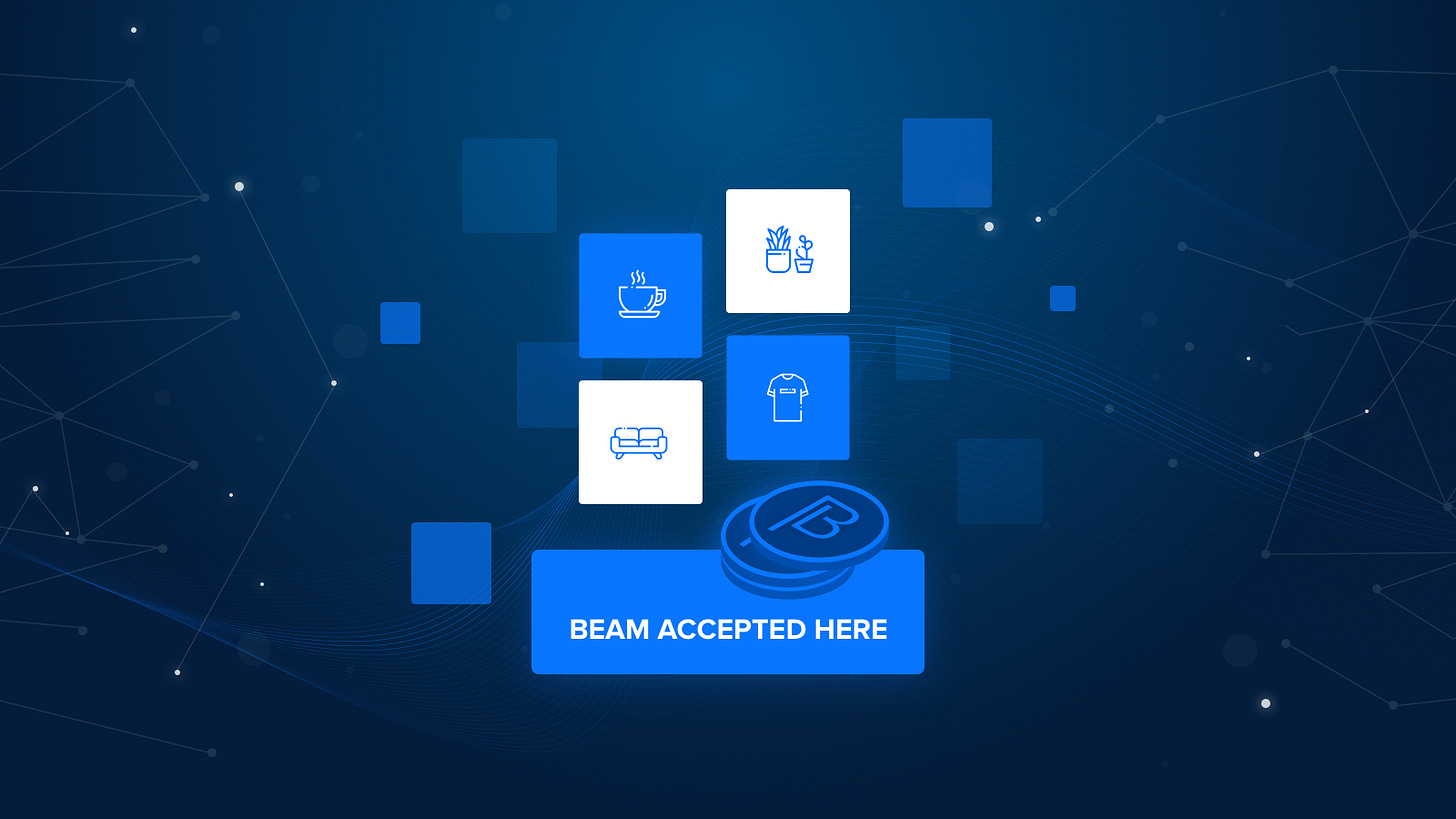 Beam News
A big week for our big brother Bitcoin, with the lead up to its third halving. The halving will take place tonight, with many events surrounding it presenting a great excuse to celebrate the successes so far. The halving is an important, and arguably one of the most interesting, aspects of Bitcoins emission. As you all know, Beams emission schedule is based off of Bitcoins, so it is an event that we are all following closely, and excited for.
The halving is often attributed to Bitcoins success, but one thing that get's less attention, yet is a key factor, is Bitcoins acceptance by merchants. So I thought it would be a great chance to take a look at how Beam is doing on this front.
Beam Accepted here!
From the get go, Beam being accepted as payment by merchants has been something the team has seen as a key for both users, and the network. After all, what good is a privacy coin if it cannot be spent?
So let's take a look at who's accepting Beam, how they are accepting it, and how we can use Beam as a means of exchange.
Who's accepting Beam?
A great question, and before sharing some examples, i'll share the source of them. There are a couple of great ways to keep up to date with who is accepting Beam. The first of which was recently launched by Beam Ambassador Daniel, with the Pay in BEAM Twitter account. This adds to his already extensive efforts, and is a great initiative keeping the community up to date with who's accepting Beam, and promotes Beam acceptance and adoption. The second, Cryptwerk, gives a list of merchants accepting Beam, with ratings, and a brief overview on the vendors. You can also jump over to the Beam Accepted Here page on site. This is an exhaustive list of merchants that are accepting Beam, and is updated on a regular basis.

Some highlights:
How to accept Beam:
The great Vsnation is working on more initiatives to drive adoption, with plugins for the most popular online merchant platforms on their way.
How to spend Beam:
A picture is worth a thousand words, so a video from Raskul is worth far more. Check it out to see how easy Beam is to be used as a means of payment.
This is just a taste of what's to come, and remember, if you have any merchants looking to add Beam, let us know, and we can assist in making it happen!
Press
R&D Updates
Development and testing for the upcoming fork is progressing nicely, with the fork expected around the 28th of June. For more details, hit up the announcement, and eye up all the exciting updates that come with it.
Sign up, stay tuned, and see you all next week!
---
Got news or articles to include in the newsletters? Any feedback? Any suggestions?
Drop us a line at marketing@beam.mw or follow us on Twitter.