Beam 2020 Week #43 - Private Whisperings
Covering October 19th - October 25th 2020
Download Beam Android Wallet | Beam iOS Wallet | Beam Desktop Wallet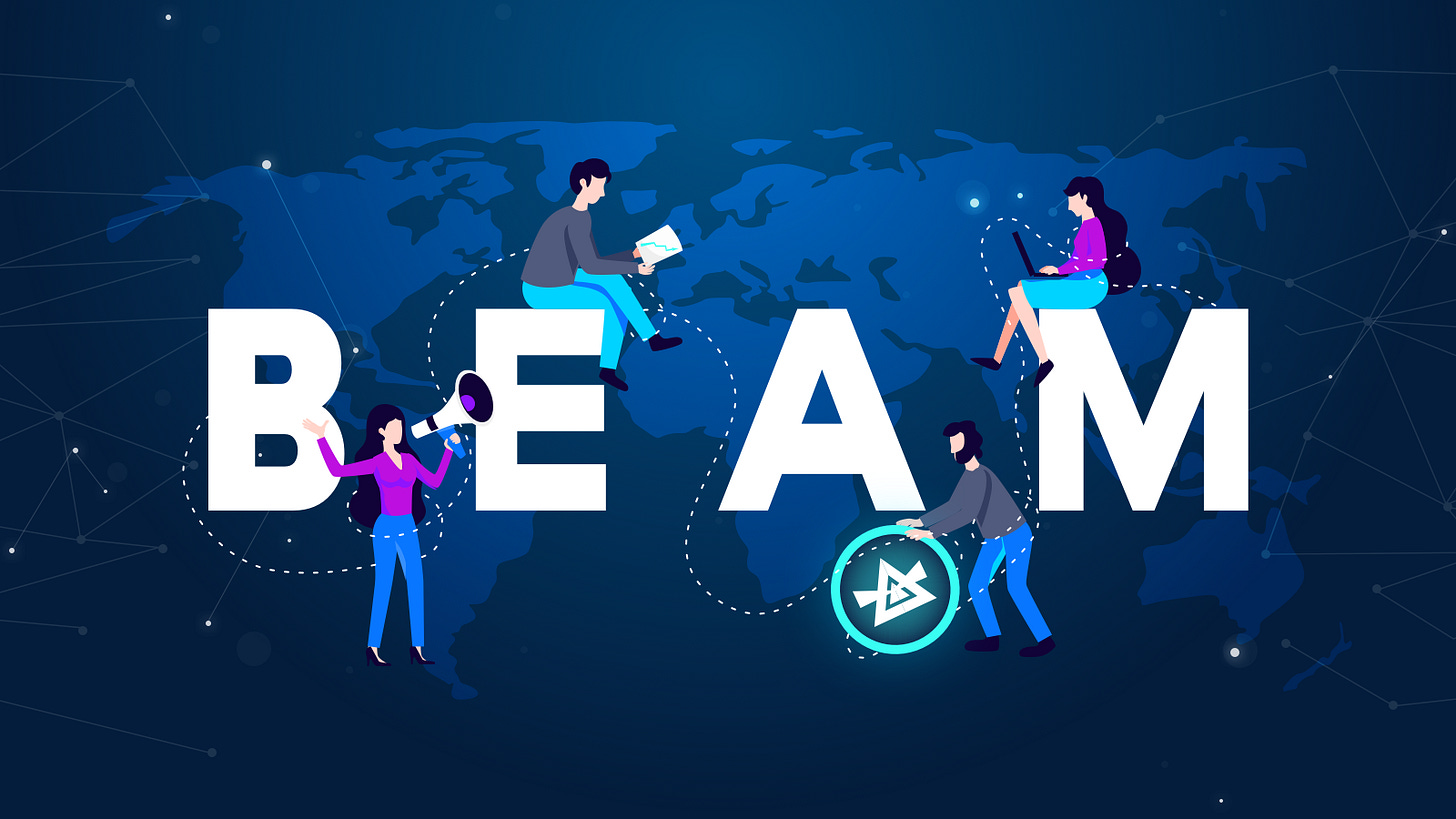 Beam News
A busy week behind us, with just shy of 10 weeks remaining before the end of the year, but plenty on the cards for Beam before we (thankfully?) say goodbye to 2020!
Before we dive in to the week that was, a special shoutout to an exciting upcoming event…
Beam will be having an AMA with leading exchange Binance this Thursday! It is a great chance for community expansion, getting your pressing questions answered, and for us Beamers to show our support in numbers!


The event will take place at 5:30 UTC in the Binance Telegram channel, so get your AMA hats on, and see you there! If you are lucky, you may even take home some $BEAM with you!
Beam Talks
The last week brought us a new episode of Beam Talks, featuring Harry Halpin, CEO of Nym Technologies. Alex and Harry sat down to talk Privacy, Technology, Crypto and beyond.
Nym is a mixnet focusing on network level / layer zero privacy, so what better time to look at what Beam has implemented so far on this front!
Dandelion++
The Dandelion protocol has been utilised in Beam since launch, and protects users IP addresses by routing transactions (stem phase) via selected random peers, prior to propagating the transaction (fluff phase) to the wider network. In addition to this, any node participating in the stem phase will non interactively merge any waiting transactions. If there are not enough real transactions in the works, the node will merge zero sum decoy outputs. Transactions (real or decoy) cannot be undone by nodes further along the stem, thus Beam's Dandelion not only protects users IP addresses, but helps to obfuscate the transaction graph.
TOR (CLI)
For those with a nose for command line, Beam also allows users to utilise The Onion Router (TOR), from the CLI wallet, when connecting to a remote node. Doing such also works to hide your real IP from the node you are connected with, whilst using the Beam CLI wallet. You can find instructions for TOR use with the CLI wallet here!

You can find more on what makes Beam the best in privacy in the recent article by Alex Romanov addressing just that! Stay tuned for more additions to Beam's network level privacy.

Beam Accepted Here
More merchants joining the privacy revolution and adding Beam as a means of payment. The last week bringing us one of the latest additions to Beam Accepted Here with Ninja Game Keys!

Now Beamers can buy brand new games, steam wallet codes, gift cards and more using Beam. Ninja Game Keys has begun accepting payment in Beam via Coin Payments, one of the leading crypto payment processors that supports Beam!

Research and Development
The latest and greatest from Alex in Beam Pulse episode 8, giving us the run down on what to expect from Beam in the coming weeks and months as development continues to progress full Beam ahead!

With the latest Beam Pulse comes two wicked demos: Confidential Asset transactions, and Atomic Swaps between Beam and Ethereum.
Check it out!!
Key Developments:
Eager Electron 5.1 Mobile Wallets - Release expected this week

Eager Electron 5.2 - Testnet release is imminent

Atomic Swaps - Additional pairs incoming with EE 5.2: DASH; DOGE; BCH; BSV

Beam <> Ethereum Atomic swaps - Expected in EE 5.3 release (demo in Beam pulse above)

Localisation - EE 5.2 will have support for Chinese, Russian, and Dutch

Beam Shaders - Major progress in the WebAssembly smart contract capabilities for Beam, with the first applications having commenced development

Oracles - Development on Beam oracles utilising shaders has begun

Confidential algorithmic stablecoin - Work progressing

Beam Bridges - Decentralised bridges with Ethereum are in progress

Press

Sign up, stay tuned, and see you all next week!
---
Got news or articles to include in these newsletters? Any feedback? Any suggestions?
Drop us a line on marketing@beam.mw or follow us on Twitter.