Beam 2022 Week #6 - A Web of Privacy
Covering January 31st - February 6th 2022
Beam News
A big week for Beam with the Beam Web Wallet Beta release coming through. The Web Wallet is an integral part for onboarding and attracting new ecosystem participants, and will no doubt be a force of its own when interacting with the Confidential DeFi applications! Some huge improvements made, so let us dive in and see what the Beta release brings with it!
Beam Web Wallet!
Key Features:
Send and Receive screens were reworked to make the wallet usage even more intuitive

Full list of incoming and outgoing transactions

Transaction details

Fast restore
Security Improvements:
Ability to lock the Wallet

Ability to hide all balances
Huge improvements have gone into making the Beam Web Wallet ever more intuitive and useable than before, and making sure those precious Beams are secure. This is but the surface level of an enormous overhaul of the Beam Web Wallet as we move to Beta. A great undertaking and achievement for the Devs!
Decentralised Dapp Store

Decentralized Dapp Store, aka the D2App Store, is one of the key features of the upcoming 6.3 Desktop wallet release. It allows for a completely decentralized distribution of the Beam applications and builds upon an IPFS integration as well as Confidential Smart Contracts. The main goal is to improve reliability, privacy and censorship resistance properties in comparison to centralized frontends that are used in most current Web3 applications.
The process starts with registering as a publisher, which creates an account in the contract as well as generates an identifier that can be then posted on a website or in forums. Once the user adds the publisher they can see the applications that are distributed by that publisher, install them and run them within their desktop wallet. The application itself is an archive (.dapp) containing the entire application code that interacts with the smart contracts on the blockchain. The archive contains publisher and optionally auditor signatures to verify its authenticity and validity.
Beam D2App Store will support version management to ensure timely updates of applications as well as notifications on issues and potential problems.

Community!
Bullish Beam!
Vote in Confidentially!
Growth!
BeamNFT.art
is officially in BEAM Dapp Store! Download the Beam Wallet and Trade NFTs. Thanks,
@beamprivacy
! WAGMI
#nft
#beam

nftart
#beam
#privacy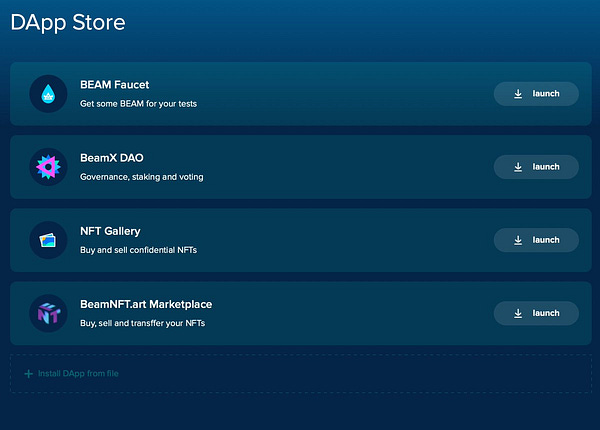 The Latest Dapp!
The newest dApp in the

#Beam

Wallet

#Confidential

#dApp

Store:
BeamNFT.art
. The 1st community-created NFT Marketplace dApp on the Beam Blockchain. Browse, trade & discover confidential NFTs on the marketplace.
That is all for this week, but be sure to sign up, and stay tuned for all things Beam.